About Us
Press Room
Additional Information
VBO

-Services

VBO-Services's mission is to transform the creative act of software development perceived as an art, in an industrial process characterized by standardization, automation, reuse, specialization and continuous improvement. VBO-Services software is the most powerful, tightly integrated and comprehensive automatic software generation system available, putting a new generation of software development tools and processes into the hands of any business. Many of Germany's most prominent corporations depend on enterprise applications developed with VBO-Services technology. VBO-Services was founded in 2005 by CEO Victor Bodnarescu and is based in Frankfurt am Main, Germany.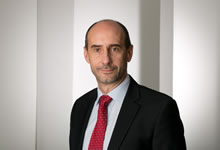 Victor Bodnarescu,
CEO & Founder
Find Us
Contact Details
Address: Bockenheimer Landstraße 17-19, 60325 Frankfurt am Main
Phone: +49(0)69/70799762
Email: info@vbo-services.com
mail

Email Us
Why
VBO-Services

?

VBO-Services offers software development tools that allow you to:

handshake Generate 96-98% of software code automatically.

handshake Develop 3 to 5 times faster with lower costs.

handshake Reach nearly zero-failures target.

handshake Produce high-fidelity prototypes.

handshake Generate the software application documentation automatically.


Through over 8-year experience in successful outsourcing engagements and delivering complex IT solutions to customers ranging from big enterprises to mid-sized and small business, VBO-Services has proved to be the appropriate strategic partner for companies seeking to have outsourced software, highly-qualified and certified engineers with in-depth domain expertise and technological know-how, and the guaranteed quality of service.

The key reasons why customers choose VBO-Services as the preferred strategic outsourcing partner are outlined below.
Companies that already work with
VBO-Services
VBO Services is making headlines with its technology and thought leadership in automatic software generation methods and tools. We are proud to have been recognized for our achievements.
Press

Coverage
Individual software solutions for a
financial services provider -

CRM Solution at FORMAXX AG

(only in German)
Customers

we already serve
In this section, you'll find a wide variety of resources that can help you make the right choices as you move your organization from where it is today to where it has to be tomorrow, using products and services provided by VBO-Services. Articles, white papers, blog posts, podcasts, webinars, presentations, news, links, downloads and more are grouped according to your role in the company.
C-Suite Executive /
Manager Resources
C-level executives and managers maintain tight control over financial management and business performance; they are at the strategic heart of the organization and have a large stake in IT investment decisions to support continued growth.
Business Analyst /
Designer Resources
The involvement of business analysts and designers in software projects can mean the difference between success and failure. They own the requirements processes and are responsible for communication and collaboration between the business and IT.
Software Developer /
Architect Resources
The heart and soul of the software development process are the developer and architect roles. They are the workhorses of the whole system creating the code that the other roles only influence.
Customers

we already serve